Membership in the International Ammunition Association is open to those with an interest in the study of ammunition and who wish to further the objectives of the IAA; and upon completion of the application and the remittance of the appropriate dues. Within six weeks of acceptance, new members will receive a welcome package of information as well as the International Ammunition Journal. Members will also receive all the back issues of the Journal for the current year. Membership will be due for renewal in January each year.
IAA membership includes a subscription to The International Ammunition Journal, a bimonthly magazine wherein you will find:
Featured articles- on a broad spectrum of cartridges and ammunition history, frequently the result of previously unpublished research by IAA members.
Coming Events- for cartridge shows and the meetings of cartridge associations.
Questions and Answers- where readers pose their queries to the staff and membership.
Industry News- reports on the ammunition industry, new products and announcements.
Company Histories- a historical look at some of the more obscure ammunition manufacturers.
And more- on cartridge prices, ammunition-related patents, book reviews, clips and links, sectioned cartridges, headstamps, box labels, announcements, and information from the leading experts in the field.
Are you interested in
Cartridges, Ammunition,
or just plain "Bullets" ?
Are you a cartridge collector?

Are you a gun collector who is looking for that mint Winchester box to go with your High Wall?

Is Forensics your business?

Are you in the firearms/ammunition industry?
Then you should consider joining the
International Ammunition Association
Founded in 1955 with a worldwide membership, the International Ammunition Association (IAA) is dedicated to the advancement of knowledge of all types and forms of ammunition. Its 60-page Journal is published 6 times/year and is packed with information on ammunition both antique and modern. There are articles by many of the world's leading authorities in the field, news of current production, company histories, book reviews, patents & trademarks, analysis of ammunition development, questions and answers, and classified advertisements.
Recent articles include:
• Tungsten Armor Piercing
• MBA Javette Cartridges
• Australian .303 cartridges
• Western Cartridge Boxes
• 9mm Subsonic – WW2
• 12-gauge Short Shotshells
• British Airgun Pellets
• .458 Webley Carbine
• Siamese 8mm Cartridges
• Russian Pinfire Cartridges
• .69 Early Metallic Ammunition
• 40mm Practice Cartridge
• .58 Rimfire Blanks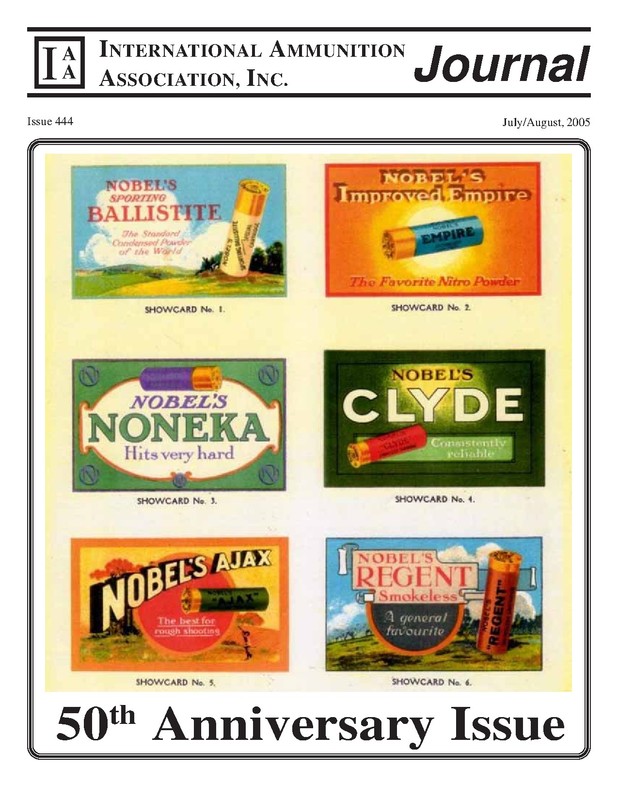 The IAA publishes its annual PDF directory file showing names, email addresses and the collecting specialties / research interests of its members.
Annual membership runs from Jan 1 to Dec 31, so if you join during the year you will automatically get the Journal issues for the year to date. As part of your new member package you will also receive this 44-page well-illustrated introduction to collecting ammunition. It covers the history of cartridge collecting, the tools used to record, store, catalog and examine cartridges, a bibliography of cartridge-related publications, a comprehensive illustrated glossary of terms, tips on buying at auction, cartridge cleaning and care, etc..
Membership is just $50 USA, $60 Canada/Mexico, and $90 overseas. eJournal Membership: (includes eJournal in PDF form) $25 regardless of location. Note: this does not include printed Journal. Also to consider: with a Journal membership the eJournal is only an additional $10. Payable in US funds.